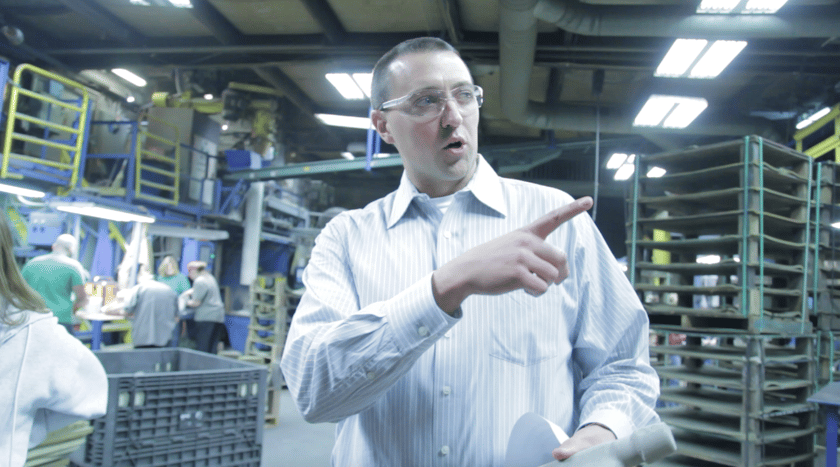 Challenges:
Paper-based information sharing of manufacturing processes made it hard to keep documentation up-to-date; employees were often working with dated information

Outdated information made quality control standards hard to maintain

Accessing and reading large, paper-based process documentation was cumbersome and time-consuming for employees on the floor; productivity was hindered and morale was affected

Management was unable to track which team members had accessed the most up to date information
Solution:
Once documentation of manufacturing processes was uploaded to Ving, updates to any information and instructions are easily made in real time

Up-to-date process documentation, as well as quality alerts for specific parts, is available to all floor employees at any time; they now begin every job knowing exactly what to do

Productivity and quality have been vastly improved through Ving's digital packets, which include diagrams, video and other visual documents
Overview:
Humtown Products is a full-service supplier to manufacturers of metal castings, also known as the foundry industry. The family-owned business was established as a pattern shop in 1959, at which time Humtown earned a reputation for superb craftsmanship and attention to detail. That reputation grew right along with the company as it began serving the core making needs of foundries throughout the Midwest. Along with meeting the core making needs, Humtown now provides 3D Printing of plastics and sand services. Humtown Products contributes to the manufacturing of parts and equipment used in a diverse array of industries, including: agriculture, construction, manufacturing, mining, national defense, public utilities and transportation.
Business Challenges:
Like any company in the manufacturing industry, Humtown has step-by-step process documentations for each Part that employees are required to follow on the production floor. Previously, Humtown workers only had access to information about these processes through large, paper-based documents that were housed in big binders near the production line. When updates to the documents were made – which was a cumbersome process on its own – it was incumbent on the workers to read through the manuals, and find and understand the new information.
Humtown management had no way to track who was reading the updates as they became available, which made quality control and assurance hard to manage. Additionally, worker productivity was significantly slowed down when employees had to sort through lengthy documents to hunt for new and updated information – which was also contributing to lower morale, as compensation is tied to employee productivity.
"Humtown is recognized in the industry for our state-of-the-art manufacturing employee incentive system," said Brandon Lamoncha, Sales Manager and Solution Provider for Humtown. "Since compensation is tied to quality and throughput, this system allows shop floor workers to control their hourly wage and see in real-time how much money they're making by the hour," he said. "Still, our processes for sharing information were antiquated and contributed to inefficiencies that affected both throughput and workers' ability to increase earnings. We knew we needed a better way. Luckily, we found Ving."
Moving to a paperless shop increases quality and productivity
When Brenda Covert, Marketing and Sales, joined Humtown a few years ago, her colleagues at the company were already looking into deploying Ving to see how it might improve shop floor communications and efficiencies. "Going from a paper-based environment to paperless was a big goal, the management here recognized that the large volumes of process documentation made it hard for Team members to access and absorb all the information," she said.
"With Ving, we simply upload the process documentations to the platform and make the URL for each document accessible to workers right from the shop floor," she added. "It's extremely easy for them to pull up and see new information, as well as receive quality alerts about particular parts, as soon as they're available. And with the addition of short video clips that provide additional detail and direction, workers are well-informed before they start their jobs every single day."

"Since putting Ving in place we've experienced three key benefits – quality improvement, team morale and industry credibility. Having the most up-to-date information immediately available improves productivity and gives us a better handle on quality control, which was our main objective. An added bonus is that our customers are also impressed with how efficient our operations are, and that strengthens our reputation with them."
According to Covert, when major customers and prospects visit the Humtown facility, they are impressed with the company's state-of-the-art communication process, which gives them added confidence in Humtown's manufacturing processes and helps solidify existing relationships and helps build confidence in new relationships.
Outcome:
In the future Humtown is looking at possibly adding some animations and other multimedia to Vings, to make the documentation content even more engaging. "Real-time access to the most up-to-date information right from the machine employees are operating has been a huge boost to productivity, quality control, and even morale. Ving has brought incredible benefits to our team, and there will be more to come as we expand our use of the platform."